Welcome to Thursday my Fabulous Follower!
Lets do some link ups today shall we!
I may have jumped the gun a bit again as it's not quite thursday in some parts of the world but whateves!
I am participating in

It's Ok Thursday

from Neely at A Complete Waste of Makeup as well as

Non-Scale Victories

from Lex at Life By Lex so head on over and LINK UP!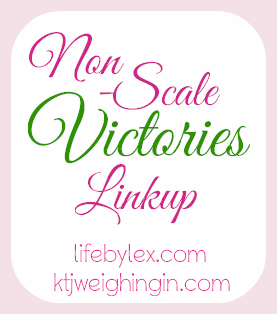 Lets start with my

It's Ok Thursdays

shall we!


It's Ok Thursday

is such a beautiful day, not quite Wednesday but definatly not Friday so I am happier than a piggy in mud! (that sentence made sense in my head but maybe not so much now that I re-read it!)


It's Ok Thursday

as Autumn is well and truely upon us down here in Aus which I am super excited about! Todays winds are a blowin!!


It's Ok Thursday

because Dylan and I are hopefully heading out for a delayed date night to see OZ, we where planning on going last thursday but we got delayed!


It's Ok Thursday

because I am finally feeling better!


It's Ok Thursday

as I have been a super duper clean freak the last few weeks, I stayed up till 2am lasting because I still had washing and dishes to finish cleaning and my brain wouldn't switch off and allow me to go to sleep until after I cleaned my house so I now have a Spotless house!!


It's Ok Thursday

because it is time for my

Non-Scale Victories

for this week!


My Non-Scale Victory

firstly is that I am back to feeling better and back to eating better WOO for clean eating!


My Non-Scale Victory

secondly I may have snuck a sneak peak at the scales this morning and have been rather happy at what I saw! I guess I was just holding water weight yesterday! (Does that count as a NSV seeings as the scale was invloved??)


My Non-Scale Victory

thirdly is that I tried Pop Pilates for the first time this week and realised how much I LOVE it! I will defs be continuing on with the youtube videos
And that is about it for Thursday's link ups! Looking forward to reading everyone else's

It's Ok Thursday's

and

Non-Scale Victories


Love You All My Loveliess xXxoOo