Well look what we have here!!
I am blogging on a Sunday WOOOO!~!~!
It really has been months since I blogged on a Sunday and that is purely because I normally blog off my work computer but seeings as I have decided to plan out my blog posts a little more I am really trying to commit more to my blog and post more fabulous and totally AMAZEBALLS content!
Just kidding you will only be reading my regular crappola!!
Seeings as it is Sunday I feel that I should probs link up with the
SUNDAY SOCIAL!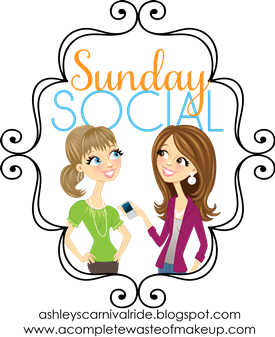 This Weeks questions:
1. What is your favorite kind of surprise?
I am not a really big fan of surprises I suppose that is because I like to be in control of a situation and you can never be in control of a real surprise However my favorite kind of surprise which I don't think I shall ever get sick of always seems to have something to do with my husband making dinner and getting a movie when I have had a long hard day at work. A simple surprise really is my favorite kind of surprise!
2. Flowers or Chocolate?
I love flowers!! I constantly buy flowers or cut flowers out of gardens to put in my house. I think that flowers make a house look a little more loved and put together! Roses are of course my favorite but I will take what I can get. Dylan often brings me home flowers because he knows how much I love them.
3. What is your favorite summertime activity?
I love heading up to my parents house and hanging out with my family and swimming in the pool, that or heading down to the beach with Dylan and the dogs for the evening and just throwing the ball and watching the sun go down.
4. Do you have any vacations planned this Summer?
Well as it is almost Winter down here in Australia I haven't really been thinking about summer like people in the northern hemisphere but I have been thinking of maybe heading on over to Bali at the end of the year (our summer) over Christmas and New Years.
5. Favorite Summer Holiday?
I don't really understand this question, are you asking for my favorite Summer Holiday memory?? If so it would most likely be when I was 16 and my family headed to America for 3 weeks. We drove around California and down to the Grand Canyon. It was summer in America and we had a pretty awesome time.
My Dream Vacation would probs be heading some where like Barbados or any beautiful beachy islands and just hang out at the beach with Dylan. I mean doing anything with Dylan for a week with out any work is a dream vacation to me at this point in time!!
Well that is my answers to the Sunday Social Link Up!
I am hoping to post a blog a little later this afternoon about my #SUNDAYPREP for my Revolt Now Fitness program but as we are looking at buying this new place I mentioned on Thursday and the fact that we will then have to put our house on the market I am running around the place trying to clean as best as I can!!
Okie Dokie Artichokie.
I better get back to Sunday Cleaning!!
Love You All